40 Fantastic Time-Wasting Web Sites
Sure, you should probably be working. But why bother when you can vaporize hours by checking out these engaging Web sites?
JR Raphael, PC World Jul 28, 2009 12:21 am
http://www.pcworld.com/article/169112/4 ... sites.html
I LIKE THIS ONE UNDER SAFETY GRAPHIC FUN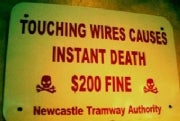 AND I WON'T TELL THAT YOU'RE JUST GOOFING OFF.